1 tag
Garth Marenghi's Darkplace Pt 1 - Concept and...
I'll just dive right in and try to make this brief. For the past couple of months I've been quietly, privately beavering away on the Garth Marenghi's Darkplace board game. I abandoned it once or twice because of work and because I thought I had a great idea for a card game (I didn't), but I kept returning to Darkplace. Garth Marenghi's Darkplace, the board game is a...
4 tags
Unboxing Porn: Takenoko
Why is a man like a panda? Because they both eat, shoots and-no, wait. I told it wrong. Why are men like pandas? Because they eat shoots-what? Look, I was very young when I heard this joke and I didn't get it then. It's not even funny. Forget it. Who likes games about crop irrigation in feudal Japan? Alright. Who likes hungry pandas pissing off frantic gardeners? Yeeaah TAKENOKO! ...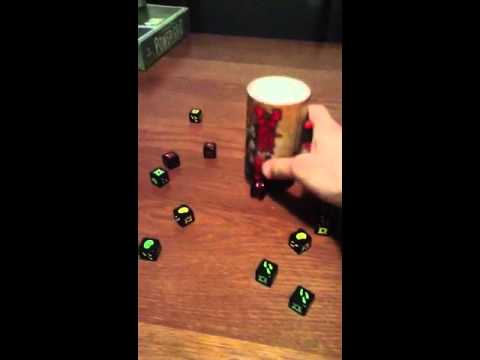 Thinking out loud - May include randomness.
Typing quickly because I want to get to an unboxing. Excuse errors [[MORE]] I don't know where my Xbox control pad is. Seriously, guys. I haven't seen it for months. The last video game I played with anything approaching mild interest was… Jesus, I don't know! This little indie thing called Stealth Bastard, I think. And the last video game I really...
4 tags
Unboxing porn: Rockband Manager
Take on the role of a manager willing to do anything to launch his rock band to stardom. Recruit musicians, find gigs, cut records. Keeping a tight grip of the budget is key to success in Rockband Manager as overspending early in the game on top flight musicians will hamper your ability to secure high profile venues or even advertise the band effectively. Sound familiar? ...
1 tag
Unboxing porn: K2 second edition
[[MORE]]
1 tag
Unboxing porn: Flash Point Fire Rescue
[[MORE]]
Lightening the load
A modest load, I'll admit, but I've been looking at 'brag pics' lately of board game collections ranging from a comfortably full shelf of generously rotated classics to a  spare-room-filling board game K2 - a mountain of unplayed, wasteful cardboard and plastic. A peak of shame. I want my collection to be smallish and contain games that I will play. Often. And I have games...
1 tag
Unboxing porn tease: Level 7 [Escape]
"No matter how paranoid you are, you're not paranoid enough." - Suzanne Modeski
3 tags
Unboxing porn: Bionicle - Quest for Makuta
Something about Bionicle never really sat right with me… Oop. No. Bad way to start. First things first: New to the Table is on Facebook now. So blow the dust off it, apologise to Twitter, and 'Like' my page please. Then come back. Back? Good. Now nip off to UKGMN to see what the best British board game bloggers are talking about today. Then come back. Done? Thanks. Something...
3 tags
Unboxing porn: Lord of the Rings
I'm often* asked, "Kelsey, do you play any of these games or just open the boxes and photograph them?" Well, yes. Yes , I do. Please see my BGG profile (kelseyisace), or follow me on ruddy Instagram (@kelsey_jackson_) where there are more pictures of cardboard and plastic than there are pictures of my own child. Self promotion over. Lord of the Rings, then. This is the Reiner...
4 tags
Unboxing Porn: The Isle of Doctor Necreaux
The Isle of Doctor Necreaux was always my first choice of solo card game. When I bought Space Hulk Death Angel, it was because Necreaux was out of stock. When I bought The Lord of the Rings LCG, it was because Necreaux was out of stock. I have coveted this game for months and months. It came in the post yesterday. [[MORE]] I love bad sci-fi. Wobbly sets, wooden acting, spaceships held up with...
4 tags
Unboxing porn: Black Cannon
Black Cannon, Parker Brothers' swashbuckling privateer board game of 1986, is unique in that it's a piratey product that DIDN'T get a hasty re-skin following the success of the Pirates of the Caribbean movies. Forgotten and dusty on the bottom shelf of a charity shop, here's some vintage porn of a copy I plundered. Drink up, me hearties, yo ho! [[MORE]] A little...
Unboxing porn: Dungeons & Dragons game
"Imagine that you and your friends are the heroes of a fantastic and magical world…" Good visit to the car boot (yard sale, @CptRoboto), this morning. Found a set of Fighting Fantasy novels, couple of CD's I've been after, and this: Dungeons and Dragons Game from 1991. The box is a bit tatty but as far as I can tell the contents are all there and barely used. Here...
2 tags
Unboxing porn: The Lord of the Rings - the card...
Space Hulk: Death Angel was tons of fun. Nail-chewingly unapologetic in it's relentless, ass-handing difficulty, sure. But fun. In the twenty or so games I have played I have logged eight winsTHAT'S A LIEshut up! Okay, sixLIES!. Jesus, fine! I've won four times, okay? FOUR OUT OF TWENTY GAMES, OKAY? ALRIGHT? But that didn't matter, it still doesn't matter. I like the...
2 tags
A few words about Space Hulk: Death Angel the card...
It's possible for a tabletop game to recreate the tension and against-all-odds feeling of the movie Aliens. Space Hulk: Death Angel is a hard, hard game. I've played six times and have yet to win. But despite that, it is top of my gaming pile (and not just because it comes in the smallest box). Tom Vasel does a great job of reviewing the game here. I'm mostly speechless about...
Board game design diary, entry two: U-turn
Entry number one is here. In which I waxed lyrical about a wonderful Victorian London populated with humanoid cats. But not just cats. Cats with AGENDAS. Also there were dogs. HELL dogs who wanted to wage war on Catkind by opening some kind of PORTAL in a religious place. There was to be monocles and stove-pipe hats and busty prostitutes and Dodger-like pickpocketing orphans as well as jokes...
Board game design. Post 1.
So, I'm working on a board game with a friend. It's at the bits-of-paper-with-components-from-other-games prototype stage at the moment. It's pretty good. Unique theme, I think. But I'm not sure how much I can talk about it. So instead here's some info on A DIFFERENT BOARD GAME I'M WORKING ON! Woah. Who's surprised? I am, that's for sure. The idea...
3 tags
6 tags
Unboxing Porn: Forbidden Island
Gamewright's Forbidden Island, designed by Matt Leacock (of Pandemic fame). This co-operative adventure came recommended by my friends at @ExplodingRobot. Here come the pictures. Any crumbs are the result of some lovely home-made scones that I was eating while shooting. [[MORE]]
5 tags
Claustrophobia. Post-mortem.
The plot: some fluff about demon forces trying to bring down the city of New Jerusalem from its catacomb foundations, seems they can only be stopped by this Redeemer guy and a handful of "volunteers" (the lowest of the low, condemned murderer types - do this favour for us and get your sentence reduced or avoid execution stuff, you know, like Eddie Murphy's character in 48...
6 tags
Unboxing Porn: Batman Begins - Shadow Assault
It's no secret that I'm a huge Batman fan. Massive. It was only a matter of time, really, until my new hobby crashed head-first into my oldest obsession. I needed a Batman board game. Stat. My girlfriend, @CarysKenway, anticipated this need and went ahead and got me one. This one. And, to be fair, she could have done a lot worse. Hero Clix is still quite pricey and has that...
3 tags
4 tags
Why it took me twenty years to play a board game.
Hi. I've briefly mentioned in previous posts that something horrible happened to me that put me off board games for more than two decades. Here's the tale. [[MORE]] I was 13, the year was 1990. I went next door to my mates house to play a little Atari ST SpeedBall, 2 player. We often got together and could spend hours just racking up tournament scores of 112-98. Best of 3? Best of...
4 tags
5 tags
Catch-up using portable telephone.
Look at me. Embracing the 21st Century like a young buck reading the Guardian on an iPad. Just some idle wordage because it's been a week or so. So. Boardgames! He might be a narcisistic cunt but the damn entertaining Robert Florence (@RobertFlorence) is back on RPS talking tabletop gaming every week for as long as he can be bothered. This is a big deal for me. Robert's words were the...
5 tags
metagame
Hi. So, I'm not a big talker. In any social situation I would always much rather be in the position of the attentive listener with the concerned, furrowed brow. Part of that is attributed to a genuine, real fear that if people hear me speak then they will realise how uninteresting I am. I think of something funny in my brain room but in my mouth room there is a blockade with crime scene tape and...
5 tags
Claustrophobia unboxing porn
Thanks go to Steven Wall for Christening this feature that will pop up whenever a man in a van brings me a new game. Why should I get all the box opening fun? I'm the sharing type. The only thing I can't give you is the vague solventy new-game whiff or the farty noise that happens when you struggle to get the lid off for the first time. What? No farty noise? Is that just me? ¬_¬   ...
3 tags
Shallow gamer. And Boardlings. And UKGMN.
I just made a board game purchase decision based solely on the quality of it's minis. It was a toss up between Pandemic (holding a 7.555 rating on BGG) and Claustrophobia (a ghost's shadow behind at 7.484). Not that I give a giant sewer rat's ass about the difference in score. No, it pretty much came down to this: versus this: I'm sure Pandemic will be my next...
4 tags
Name my blog. And, Zombies!!!
Because this is my blog and I can do whatever the Hell I want, I'm skipping Popping the Question part two for now and jumping straight into my thoughts on my very first board gaming session for 22 years, the first time I have shaken a dice since 1990's Embarrassing Incident, in fact. Before I get started, though, I have recently realised that Dice Bag is a really shit name for the...
2 tags
Popping the question. Part one of two.
—Board games: yes or no?— My thumb hovered over the 'send' button as I considered not sending the text. In my head my friend, upon receiving it would throw his head back in braying laughter at my childish question. "Board games?" He would chortle, "what is that immature prick on about now?" Rejection and exclusion have been genuine fears that have...
3 tags
Travelling, man.
I'm in something of a no-man's land at the moment. Behind me is the glittering world of video games, fading quickly into it's PlayStation One, white-fog draw distance as I walk in a different direction, stepping through the mud over gasping, bullet-riddled corpses of games I promised I would complete but never did. Guiltily avoiding the stare of greying, digital eyes I am...